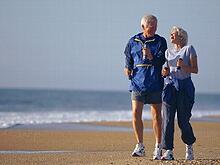 A new study from researchers at the Center for BrainHealth at the University of Texas-Dallas shows that aerobic exercise may have considerable benefits in the short term on aging and brain health. The study, published in the Frontiers of Aging Neuroscience, looked at a group of 37 adults aged between 57 and 75 with sedentary lifestyles. After being split into a control group and a physically active group, the fitness group spent one hour a day performing a cardio workout on a stationary bike or treadmill, three times a week for 12 weeks.
Exercise Increases Blood Flow to the Brain
Each participant was assessed before, halfway through, and after the study for overall cardiovascular fitness level and brain function. According to the Huffington Post, "At all three checkpoints, the group that was physically active was found to have higher blood flow in the brain and also improved memory. Researchers attribute this to increased blood flow in certain regions of the brain, including the hippocampus – the region affected by Alzheimer's."
Reduce Alzheimer's Risk with Exercise
The study's lead author, Sandra Bond Champman, said in a release, "Combining physical and mental exercise may be the best health measures to improve overall cognitive brain health." We've known for years how important exercise – for both body and brain – is to maintaining health as we age, but never has the link between cardio exercise and brain function been so clear. This makes fitness a real priority for aging Americans, especially the over 90% of them who wish to remain at home as they grow older. To prevent falls, work against dementia and Alzheimer's, improve your memory and be able to maintain your independence, a regular aerobic-focused fitness routine is absolutely essential.