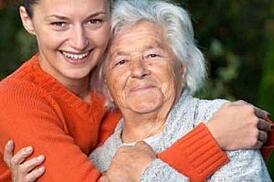 It's November 1, which means it's the start of a month that commemorates two causes very close to our heart. November is, simultaneously, National Family Caregivers Month and National Alzheimer's Awareness Month.
Alzheimer's Awareness
Alzheimer's disease is the sixth leading cause of death in the United States overall and fifth leading cause of death for seniors. It affects more than 5 million Americans of all ages. According to the Alzheimer's Association, one of three senior citizens dies with Alzheimer's or another form of dementia each year. Because the senior population in America and around the world is growing, rates of Alzheimer's will continue to grow with it. By 2050, the number of seniors with Alzheimer's may nearly triple to a projected 13.8 million. Despite exhaustive research, medical breakthroughs that can slow or stop the disease have remained elusive. As your relatives age, you can help by staying vigilant about the warning signs of Alzheimer's disease. While there is no cure and little effective treatment, early detection can help you and your family prepare and protect yourselves and your loved ones who may be affected.
Recognizing Family Caregivers
The caregiving cost of Alzheimer's is immense. In 2012, roughly 15.4 million family and friends provided 17.5 billion hours of unpaid care to those suffering from Alzheimer's and other dementia-related diseases. That's an estimated care value of $216.4 billion. Research shows that 80 percent of care provided in the community is provided by unpaid caregivers. Overall, unpaid family caregivers provide an estimated $450 billion worth of free care to loved ones every year. This is why it is so important to take the time in November to recognize these family caregivers for their tireless work, and to thank them for everything they do.
Consider this, 65.7 million caregivers make up 29 percent of the U.S. adult population providing care to someone who is ill, disabled, or aged. More women than men are caregivers – an estimated 66 percent, to be exact – and 34 percent of female caregivers take care of two or more people. Moreover, many caregivers of senior citizens are older adults themselves. Of those caring for a person over 65, the average age of caregivers is 63 years old. The work these people are doing is vitally important, for their own families and their communities at large, but often goes unrecognized outside of the smallest of inner circles. Take time in November to celebrate your friends, neighbors, and family members who are providing care to their elderly and ill relatives. You can host a get together for your family's caregivers in appreciation, give them cards and flowers as thanks, post about them to your social media channels for more public recognition. Any way you can show them you care will be appreciated.
For more information visit the Administration on Aging.