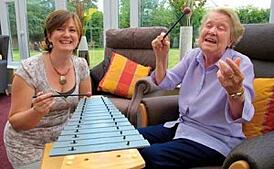 For people of all ages, music often arouses various emotions, sensations and memories. Especially for the elderly, music can help bring them back to pleasurable times in their life reminding them about experiences they had throughout their younger years.
Music Therapy Helps the Elderly
Several studies have been done on music therapy and the elderly, mostly in the areas of Alzheimer's disease, Dementia, and general Geriatrics. Studies suggest music helps elderly patients with chronic pain, cancer, hearing impairment, or those who have recently gone through a surgery or have lost a loved one.
11 Ways Music Heals the Body and the Mind
In a recent article on Huffington Post, editors discuss 11 Ways Playing and Listening To Music Help Both Body and Mind:
Eases anxiety in Cancer patients
Reduces stress
Helps during surgery
Protects your ears' sound-processing abilities
Boosts heart health
Soothes pain
Helps memory
Protects the aging brain
Prevents heart transplant rejection (in mice so far)
Improves stroke recovery
Works as well as a massage at lowering anxiety
What affect does music have in your life?