Living at home can become difficult for seniors with arthritis. It is estimated that roughly half of all seniors over the age of 65 have arthritis. Arthritis is a condition which causes inflammation and pain in the joints. This can make food preparation, household chores, and other activities of daily living very difficult. In-home care may benefit seniors with arthritis in a variety of different ways.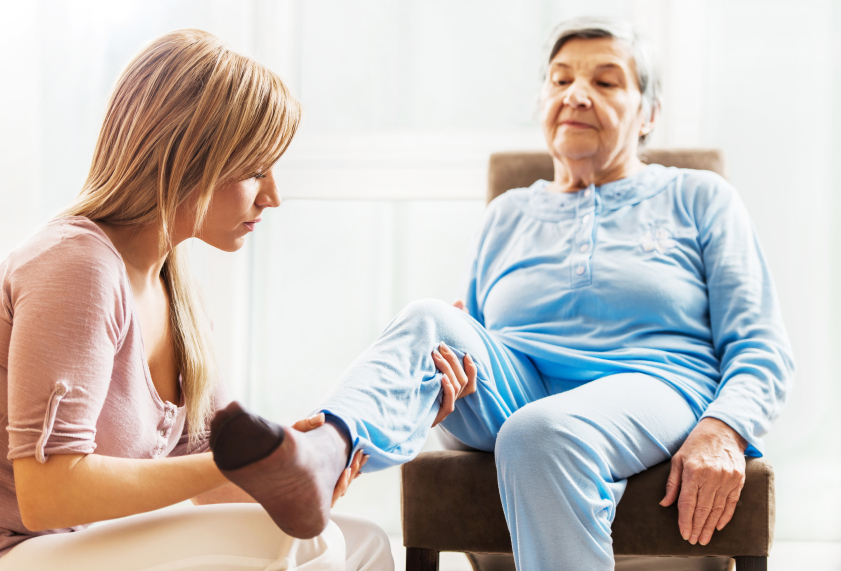 Assistance with Daily Tasks
Being unable to open food packaging, having trouble buttoning clothing, and having difficulty pressing buttons for the television or phone are a few examples of frustrations faced by seniors with arthritis. In-home care schedules can be devised so that seniors receive daily assistance with all of these tasks. Having assistance can help to reduce mental strain, which can promote a better quality of life. Having less daily strain on the joints may also allow seniors to rest the joints, which may make the condition less painful and severe.
Medication Management Assistance
Managing medication may become difficult for seniors with arthritis, as most pillboxes are small and medicine bottles may be hard to open. Opening the boxes or bottles and removing pills may be complicated, so seniors may choose to avoid medication organizers. This may lead to missed medications, taking of the wrong medications, or double doses from a lack of organization. In-home caregivers can help seniors to manage medications so that medication issues are avoided.

Exercise Assistance & Encouragement
Exercise has shown to be a fundamental part of arthritis management. In-home caregivers can help seniors to stay motivated and can either assist with workouts that have been recommended by doctors or participate for positive encouragement. Home caregivers may also be able to help with implementing regular exercise programs or activities based on the recommendations of doctors. Having a caregiver that is focused on helping with an exercise program can help seniors to stay on track with exercise goals.

Transportation Assistance
Arthritis may make it difficult and dangerous for seniors to drive or take public transportation. Caregiver assistance with transportation can help seniors with arthritis make to medical appointments and physical therapy sessions on time and to schedule appointments more easily. Caregivers will also assist with transportation to retrieve medication refills and to run errands such as grocery shopping. In times of inclement weather, caregivers can even run basic errands so that seniors with arthritis do not have to leave home.