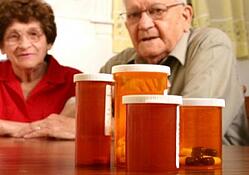 An article in the New York Times explored a new approach to getting patients take their medicine properly: paying them. Using monetary incentives raise a lot of thorny issues. But whether or not incentives are the answer, it's clear that medication compliance is a major issue for seniors.
According to the New England Healthcare Institute, a research organization, about one-tenth of hospital admissions and one-quarter of nursing home admissions are the result of incorrect adherence to medication. Those are staggering numbers. We also know from our experience at ComForcare that medication mistakes often result in falls (due to dizziness or lightheadedness), a significant concern for older adults.
Challenges for Seniors to Take Their Medicine
In our experience, older adults struggle with medication compliance for many reasons, including:
• Vision problems (They can't read the dosing instructions.)
• Hearing problems (They misunderstand or can't hear physicians' and pharmacists' instructions.)
• Cognitive impairments (They don't understand they're supposed to take medications or memory loss causes them to forget to do so.
• Arthritis or lack of muscle strength (They have difficulty opening drug packaging.)
• Dysphagia (They have trouble swallowing.)
• Mobility issues (They can't get to their medication or pick up prescriptions from the pharmacy.)
• Chronic conditions such as high blood pressure or osteoporosis with no symptoms (Without cues, they can lose the motivation or forget to take medication.)
• Multiple medications (They become overwhelmed trying to manage timing and dosage amounts.)
Help for Medication Compliance
Medication compliance aids and tips can be found online. And the American Heart Association offers lots of tips on remembering to take one's medicine properly. In-home caregivers (like those at ComForcare) are trained to work with client-specific medication profiles to ensure all medication is taken on time and in accordance with physician orders.