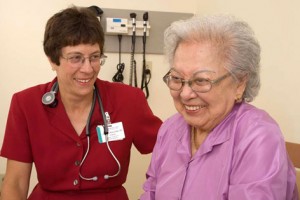 As your parents age, you will be taking them to several doctors appointments to keep them healthy and strong. Here's a great list from Care.com of how to effectively communicate with your parent's doctors to get the most out of the relationship.
Tips to Help Manage Your Parent's Medical Care
Do the Legal Paperwork
Give the doctor copies of your parent's signed health care proxy or durable medical power of attorney so he knows who in the family is responsible for making health care decisions should your parent be unable to do so. In addition, have your parent give the doctor a list of family members allowed access to her medical condition. Most doctors will have the patient sign consent forms so they can speak with that family member without the patient's presence.
"If I get a family member that I don't know calling me out of the blue, I'm not going to speak with her unless I've spoken to the patient and she's given her okay," says Amy Ehrlich, M.D., interim division chief for geriatrics at Montefiore Medical Center in New York City. "You don't need a health care proxy for every family member you want me to talk to. If a patient just calls and says, 'Can you please talk to my daughter?' that's all I need."
Pick One Family Liaison
"I cannot stress this enough: Pick one person from the family that you want the physician to speak to and who will then transmit this information to the rest of the family," says Dr. Ehrlich. Physicians do not have time to field phone calls from several family members. "I had one family, the son emailed me from Arizona. The daughter-in-law called me from Connecticut. The son called me from Washington. No one wants all these phone calls and emails."
Attend Doctor's Appointments
"Even if you just attend one appointment, it makes an enormous difference," says Dr. Ehrlich. Ask the doctor how she'd like to be contacted – whether it's phone or email – and then give her a list of all the ways you can be reached in case of an emergency. "Doctors want to talk to family members and for them to be involved," Dr. Ehrlich says.
If you can't attend the visit, contact the physician afterwards but don't get flustered if you don't hear back immediately. Doctors are busy, and some have more support staff than others to help field calls and answer emails.
Get Help if You Need it
If you can't attend appointments, consider hiring a geriatric care manager, concierge service, home health aide, paid caregiver or ambulatory escort who can do it for you.
Be prepared that parents may have some resistance to having an outside individual becoming involved in their care. Be sure to have conversations with your parents before you interview potential caregivers and explore what their resistance may be about.
Don't Assume Doctors are Sharing Information
"You should absolutely not assume that your parent's doctors are talking to each other," says Dr. Ehrlich. "Because they're not. You have to be an advocate and keep your own records." This includes making a list of all your parent's doctors, their medications and their pharmacy phone number. Distribute the list to each physician and update it as necessary. A good idea is to request that specialists send copies of medical records to the primary care doctor after each visit.
Use One Medical Group
If all your parent's doctors are affiliated with the same hospital or large medical practice, it's much easier for their primary care doctor to keep abreast of a patient's health status from the various spcialists.
This is so important that if Dr. Ehrlich gets a new patient whose other doctors are all part of another health care system, she refers her to a doctor in that system for future care.
If it's just not possible to have all medical providers practicing in the same group, it is extremely important that you or a Care Manager keep notes at medical appointments and report to the rest of the care team. Having one notebook or file to document all of this information can be helpful as the information remains in one place and there is only one record to bring to medical appointments.
Communicate with Home Health Aides
An in-home caregiver is a valuable source of information regarding your parent's health. Just make sure the aide knows exactly how much you want her to communicate with you. Do you want a daily update of your parent's health? Do you only want a call if the aide has concerns about your parent's well-being? Let her know too how you'd like to be contacted, whether it be by phone, email, text or some other method.
Switch Doctors if Necessary
If your parent's health deteriorates, many find that it is critically important to be able to communicate with the doctors between appointments. So if your parent's doctor is hard to reach, consider switching. "If you don't communicate well in the normal stage, then in a crisis stage that problem will just be magnified."