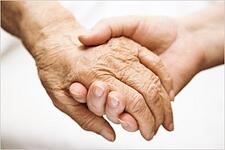 We all know that the role of family caregiver can be emotionally and physically draining.
Lessen Caregiver Stress
Here are a few tips to help you manage caregiving responsibilities:
1. Stay organized
September is a time of much transition, especially if you have children going back to school. Keep an appointment book or calendar to record doctor's appointments, prescriptions, kid's after-school activities and more. While it's impossible to predict the future, mapping each day out to the best of your ability will help you to feel far less frazzled.
2. Allot equal time for children and parents
Members of the sandwich generation – adults who care for their children as well as their aging parents – often feel they are not spending enough time with their children because they are caring for their parents and vice versa. By designating specific times for each person, you'll know everyone is getting an equal amount of attention and be more focused on staying positive rather than worrying.
3. Seek support
Caring for another human being for an extended period of time can take its toll on even the most caring and nurturing of people so don't be afraid to ask for help. Whether it means alternating days with a relative or bringing in a professional caregiver like the ones working for ComForcare Senior Services, it's worth it to keep your relationship intact in the long run.
4. Educate yourself
Understand that while some behaviors can be changed, others cannot so learn as much as you can to keep your expectations realistic. The more you know, the less will surprise you.
5. Take a break
Face it: Even caregivers need some care sometimes. Set aside "me" time every day to do something just for you and you'll be able to return to your caregiving duties refreshed and ready to help.