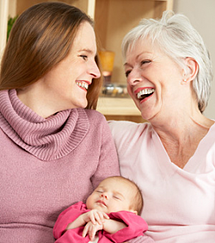 It is often said that laughter is the best medicine. It's a sign of joy and happiness. It makes you feel good and it means you are enjoying the moment. According to a recent study out of Loma Linda University in California, laughter can also help senior citizens remember those enjoyable moments. Results showed that when seniors laugh, memory and recognition improved.
The study found that cortisol, a stress hormone that can cause brain damage over time, was found in much lower levels among a group of seniors that had just been shown a funny video for 20 minutes. Lower cortisol levels means less impact from stress on the brain and, in turn, memory. Laughter releases endorphins, which produce those good feelings when you're happy. It can also decrease the risk of mental illness.
Laughter Can Truly Be the Best Medicine
Laughing has long been thought to have healing properties on people of all ages. Now that memory improvement can be added to the long list of laughing benefits, it's important to keep in mind that many problems can be solved just by laughing.
While finding something to laugh about all the time can be difficult, simple things like taking a walk and even smiling can raise endorphin levels and improve your mood. So, if you're having a stressful day, try taking a moment to purposely find something to laugh about! You may be surprised by how good it makes you feel.
Next Steps:
Read more blog posts about memory and Alzheimer's
Download our free whitepaper, The ComForcare Difference, to learn about our 5 core values and how they impact our work on a daily basis