Among the fall colors, you may be seeing a lot of pink lately. Pink ribbons are a sign that October is Breast Cancer Awareness Month. According to the America Cancer Society, breast cancer affects one in eight women and kills over 40,000 women each year. Early detection and treatment are effective ways to fight this disease, so women are encouraged to be proactive about screening.
Breast cancer awareness includes getting regular mammograms, which are x-rays of the breast used as both screening and diagnostics tools. Screening mammograms help detect breast cancer in women who haven't exhibited any signs or symptoms of the disease.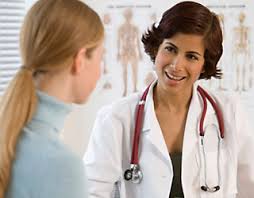 Some of you may ask yourself the question, "Should I get a mammogram screening?" Women ages 40 and older who are diligent about breast cancer awareness have made mammograms a yearly ritual, while trying (often unsuccessfully) to make breast self-exams a monthly habit. So prevention guidelines recently drafted by the United States Preventative Services Task Force (USPSTF) may seem confusing or even dangerous.
However, they are evidence-based and weigh the harms and benefits of screening. The task force found that most benefits of screening occur when mammograms are performed every two years, while harm (from false positive testing and anxiety) is reduced.
According to the guidelines, women ages 50 to 74 should get a mammogram every two years. The USPSTF acknowledges that the decision to have a mammogram before the age of 50 is an individual choice based on values, preferences and health history that should be made in consultation with your health care provider. However, the American Cancer Society continues to recommend mammograms every year after the age of 40.
If you want to know more about breast cancer awareness or are unsure of what to do about screening, talk with your doctor about what screening schedule is best for you. This is especially beneficial for women ages 75 or older, who may be dealing with other health conditions that already place them at an increased mortality risk.
For instance, heart disease and Alzheimer's disease are two chronic health conditions that are very prevalent in older women. Based on most recent figures available from the Centers for Disease Control and Prevention, the top five leading causes of death among women over age 65 are: heart disease, cancer, stroke, chronic lower respiratory disease and Alzheimer's disease.
The combination of increased age and one or more health conditions can make daily life challenging for older women. This is where ComForCare/At Your Side can help. We offer a wide variety of services, including light housekeeping, bathing assistance, meal preparation and transportation.
Count on us for help when you need it. For few hours a week or around the clock care, we can help you live your best life possible!