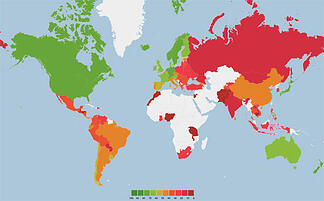 The United Nations and HelpAge International, an elder advocacy group, issued a joint report called The Global AgeWatch Index ranking the social and economic well-being of elders in 91 different countries, as well as addressing the global strain the rapidly growing elder population will put on nations all around the world. Sweden was the highest ranked country for the well-being of elders; Afghanistan was ranked last. The study also said that in 2050 seniors older then 60 will outnumber children younger than 15 for the first time in history.
The World's Population is Aging
The report, which was released on the U.N.'s International Day of Older Persons (Oct. 1), compiled data from the U.N., World Health Organization, World Bank and other global agencies to analyze income, health, education, employment and the age-friendly environment in each of the countries in question. The report emphasized that the world, overall, is not ready to cope with this ballooning aging population.
The United States ranked 8th in the report. Specifically, the U.S. ranked 36th in income security, 24th in health status, 2nd in employment and education and 16th in enabling societies and environment. The reported noted that 83 percent of Americans over 65 are covered by a pension but 24 percent of Americans over 60 live in relative poverty. Regarding employment, 60 percent of Americans aged 55-64 have access to jobs and are employed. And in regards to enabling societies and environment, 67 percent of Americans over 50 are satisfied with their local public transportation, and 90 percent say they have relatives or friends they can count on when in trouble.
Older Americans Need Companionship
Older Americans might feel comforted by the U.S.'s high ranking in the report, but our relatively high standing should not eclipse the shortcomings and concerns it raises. Access to enough money – either through employment or a pension – to maintain a healthy standard of living is crucial as our population ages. And while it is reassuring that so many older Americans feel they have relatives and friends they can rely on in times of trouble, companionship and aid are often necessary outside the scope of a crisis. Having someone to help you up and down stairs, or with meal preparation, or who can just lend a friendly ear as you reminisce is as important to aging safely, happily and healthfully as having someone you can rely on if an emergency occurs.
The Global AgeWatch Index is not just a repository of interesting information, but a great place to start as we work towards addressing the needs of our ever-growing aging population. For more information, and to see the whole report, visit http://www.helpage.org