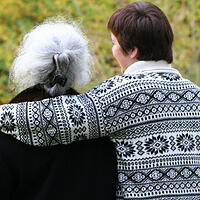 Knowing when to approach your aging parents or loved ones and what to say about their long-term care can be challenging. In this Los Angeles Times article from earlier this year, a man shares his story about how his approach sent his mom into a fury. In fact, she didn't speak to him for three years. Although we all have good intentions when it comes to talking to our parents and relatives who are getting older, often times the conversation turns into a negative situation.
Talking About Long-Term Elderly Care
Here are some tips on how to effectively communicate with your loved one without offending them:
Don't wait. Talking to your loved one about long-term care can be a sensitive subject. In many cases, the person you are speaking with may feel as though they are a burden and that you no longer care about them. What they may not realize, however, is that you are simply trying to find the most cost effective, safe and comfortable option for him/her. The sooner you bring it up, the better. You want to be proactive instead of reactive about your loved one's condition. Often times people wait too long and then they're scrambling to find appropriate care after an injury or health failure.
Don't ambush them. Before approaching your loved one and speaking with them about the topic, inform the elder of your desire to have the discussion. Remember it is not an intervention, and you don't want anyone to be on the defensive right away. Let he/she know you love them and would like to talk about the future.
Be prepared. Be sure to do research before the talk and set an agenda of what you will say. Prioritize the topics that you feel are most important to be discussed. In doing research, be sure to consider all options. Remember, if your elder is apprehensive about living in an assisted living or nursing home, there are other alternatives. With the help of home care assistants, people can remain in their home indefinitely. By providing assistance with activities of daily living such as light housekeeping, meal preparation, dressing, bathroom assistance and other services, home care is an effective solution for the elderly who prefer to remain at home where their quality of life is enhanced without the stress and hardship of interrupted routines and daily habits. Care is provided on an hourly, daily, weekly or live-in basis.
Listen to their needs. Regardless of the option you choose, be sure to consider your relative's independence and what brings him /her joy. And when you're expressing your concerns, don't mandate anything. Instead, listen to your elder and consider your relative's priorities. Understand that it's not always going to be smooth. If the conversation gets heated, try again on another day.