It shouldn't come as a surprise that people want to be at home. According to an AARP survey, 90 percent of seniors 65 and older want to stay in their home as long as possible,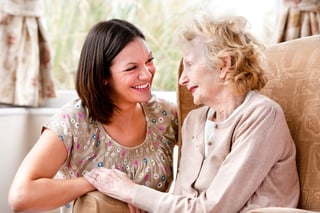 and 80 percent think their current home is where they will always be.[1] It makes sense; home is familiar, close to friends and neighbors, and provides a sense of independence.
However, life changes. Sometimes gradually – Mom's Alzheimer's progresses. It's getting harder for Dad to get around the house. Other times, it's instantaneous – Mom falls. Dad has a stroke. Whatever the reason, there are times in a person's life when they need help. Friends and family members often chip in, but sometimes they're not available, or it's more than they can handle.
When care becomes a challenge, several options are available, including:
Non-medical home care – provides in-home assistance with things such as personal hygiene, light housekeeping, laundry, meal preparation, errands, medication reminders, appointment escorts and shopping. In-home caregivers also provide companionship to clients and respite to family caregivers.
Adult day care centers – provide a safe environment for seniors who need supervision/care during the day. Adult day cares provide social activities and meals and may offer some health-related services.[2]
Independent living facilities – is a general term for any type of housing designed exclusively for seniors. Independent living facilities go by a variety of names including retirement communities, senior housing or senior apartments. Independent living facilities may offer social activities or have amenities such a pool or clubhouse, but most do not provide assistance with ADLs or medical care. However, in-home care can be hired separately.[3]
Assisted living facilities – are a combination of housing, personalized supportive services and health care.

[4]

Assisted living facilities can accommodate changing needs and preferences, allowing residents to remain as independent as possible in a secure environment with a home-like setting.
Continuing care retirement communities (CCRCs) – offer a range of housing options, including independent living units, assisted living and nursing homes, on a single campus. As needs change over time, the resident can move to the next level of care.
Skilled nursing facilities, also known as nursing homes, – provide the highest level of medical care for older adults outside of a hospital. A licensed physician supervises each resident's care. A skilled nursing facility may be a good choice for a higher level of care or for rehab services after a hospitalization or when medical and personal care needs become too great to handle at home or in another facility. Seniors might need skilled nursing if they were bedbound, needed a respirator or had wounds that were not healing and required daily care.
What's best for you or a loved one is a personal choice, and several factors must be considered, such as one's current and future medical needs, family support system and mobility. Knowing what resources are available can help you make good decisions about living arrangements and what supportive services you can afford.
Before making any decisions regarding long-term care, talk with your loved one about their wishes. If you need help getting the conversation started, download our free e-book: "Important Things to Discuss With Your Aging Loved Ones." If you have any questions, call ComForCare/At Your Side Home Care at 1-800-886-4044. We help people live their best life possible.
---
[1] Aging in Place: A State Survey of Livability Policies and Practices.http://assets.aarp.org/rgcenter/ppi/liv-com/ib190.pdf
[2] Adult Day Care. http://www.eldercare.gov/ELDERCARE.NET/Public/Resources/Factsheets/Adult_Day_Care.aspx
[3] Independent Living for Seniors. http://www.helpguide.org/articles/senior-housing/independent-living-for-seniors.htm
[4] Assisted Living Federation of America. Assisted Living Resident Demographics. http://www.alfa.org/alfa/Assisted_Living_Resident_Demographics.asp