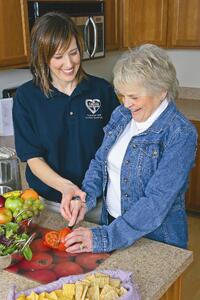 So your aging parents have decided to age in place, rather than move into a retirement community or assisted-living facility. Now what?
Staying Home Vs. Nursing Home
First of all, don't stress out. It's highly likely that your parents will be much happier and more comfortable staying put in their own home then moving out and starting over in an unfamiliar place. In fact, 89 percent of people age 50 and older said they would prefer to remain in their home indefinitely as they age, according to a 2005 survey by AARP. Aging in place allows older adults to hold onto their freedom and independence, but it's important that they are safe and taken care of properly. While often times a son or daughter steps into the role of family caregiver, it can be extremely demanding – both on an emotional and physical level.
Opting for In-Home Care
That's why many families turn to in-home caregivers, who are available 24-7 to meet their aging parent's needs. Caregivers, like those from ComForcare Senior Services, help with activities of daily living, personal care, nutrition and meal preparation, medication reminders, light housekeeping, laundry, transportation and general companionship.
Aside from hiring a caregiver to ensure your parents' needs are met, it's imperative that their home is situated to ensure their safety. Here are a few tips to seniorize your parent's home:
Replace doorknobs with levers; they are easy to open even for those with arthritis.
Use non-skid mats under area rugs and avoid using waxy cleaning products on hardwood floors to prevent unnecessary falls.
Ensure there is sufficient lighting along every stairway. A railing should be provided on at least one side to provide more stability to those climbing up and down.
Place grab bars in the shower and near the toilet to make it easier and safer for aging parents use the bathroom, as it's the room in which most accidents occur. Also, consider toilet seat extensions to reduce falls.
Place "grabbers" in every room so that reaching for things is easier.