Have you or a loved one ever fallen, stumbled or tumbled? Not only are falls painful, but they can have serious ramifications. According to the Centers for Disease Control and Prevention, 2.8 million seniors are treated in emergency departments for fall injuries each year. Additionally, more than 800,000 people are hospitalized per year due to a fall-related injury, such as a head injury or hip fracture.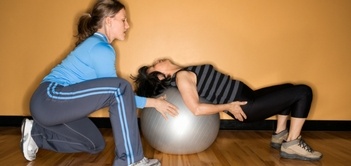 Even though falls seem common among older adults, it is not a normal part of aging. You can assist your older loved one in lowering their chances of falling by helping them improve strength and balance. Before starting any new activities or exercises together, consult a doctor.
Tai Chi: This form of exercise uses gentle, relaxing movements to increase flexibility, balance and strength. Tai chi doesn't require any special equipment or clothing, so you and your loved one can practice together anywhere, although you might find it more beneficial to sign up for a class at your local gym or studio.
Fall Prevention Programs: The National Council on Aging recommends four programs that focus on increasing self-confidence, balance and strength. Three of the programs – Otago Exercise Program, Stepping On and Tai Ji Quan: Moving for Better Balance – are proven to lower fall rates and deter medical costs, such as hospitalizations. The fourth program, A Matter of Balance, works to increase activity and uses coping strategies to reduce older adults' fear of falling. In fact, 97 percent of seniors participating said they feel more comfortable talking about their fear of falling.
Strength Training: This type of exercise is done to build muscle through resistance, whether through hand weights, bands or a person's own body weight. In a study on lower limb strength and older adults, researchers found leg extensions and stepping in place improved the balance and strength of their participants ages 65 to 82. If you or your loved one can't perform leg extensions and lower leg curls or can't use exercise equipment, there are other moves to help build muscle, such as wall push-ups. To learn more about the numerous benefits of strength training for older adults, check out RunRepeat's infographics.
Balance or Wobble Board Exercises: Balance or wobble boards can improve stability and postural alignment, according to the American College of Sports Medicine. These boards can have a sphere, cylinder or spring underneath. Others are simply curved, which allows the user to twist the abs. You may also want to try a yoga ball. You and your loved one can start off by trying to maintain your balance, then move to dynamic motions. Before you make a purchase, test the board to make sure you and your loved one are strong enough.
If you like to learn how to reduce fall risks inside the home, download our Reduce Fall Risks at Home infographic.