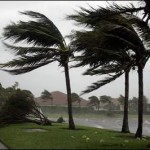 With Hurricane Irene charging up the East Coast, we thought today might be a great day to remind everyone about the importance of preparing for a hurricane.
Keep Your Loved Ones Safe During Hurricane Season
Once the storm hits it's too late – so be sure to follow these three steps to ensure safety.
Make an emergency supply kit. Be sure to include three days of non-perishable food and water, comfortable clothing, at least a one-month supply of medication, an updated list of important numbers, and extra eye glasses and hearing aid batteries.
Plan ahead. During a major storm, things can get hectic quickly. Be sure to sit down with family and friends well before hurricane season and make a plan as to where you're going to go, how to evacuate, where the nearest shelter is located, etc.
Stay informed. In case your home loses its power, it's not a bad idea to keep a battery-operated radio in your emergency kit. If the news is still sharing information, keep an eye on weather alerts. Be sure you know where and how you will evacuate, if instructed to do so. Never ignore an evacuation order, but if you're ordered not to evacuate then determine where the safest place is for you and loved ones to sit out the storm.
Hurricanes and major weather disasters can be very scary, but if you're prepared ahead of time, there is a much better chance that everyone will make it out of the storm safely. For more information, visit the Centers for Disease Control and Prevention website.