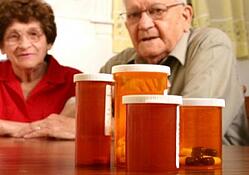 According the National Council on Patient Information and Education, adults 65 and older use more medicine daily than any other age group in the U.S. and account for 34% of all prescription medication. As many of you know, it can be extremely challenging for older adults to keep track of all their medications – especially for those suffering from conditions that require them to take multiple medicines each day.
Tips to Manage Medications
Here are a few tips on how you can help your family member keep track and make sure they're taking the right dosage at the right time. Keep in mind that between 40-75% of older people do not take their medications correctly, according to the council.
Purchase a pill box with days of the week listed on the top of each pill container. This is simple and convenient.
Make a chart or list and hang it on the wall near the medicine cabinet. Write down the name and dosage of each medication – including over-the-counter drugs and vitamins – and instructions for taking each medicine.
Keep medications out on the counter or in a spot where your loved one will see it every day. You know the age old saying, "Out of sight, out of mind!"
Consider all of your options. Hire an in-home caregiver if you can't be there 24 hours a day or research various forms of technology that help remind seniors when to take certain medications.