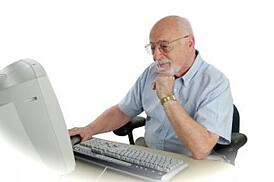 Did you know that for the first time, more than half of American adults age 65 and older are online? As technology continues to advance, seniors are finding new ways to connect with their family, friends and healthcare professionals.
Seniors Connect With Healthcare Professionals Online
One of the newest ways seniors are using their laptops or tablets is to have virtual visits with pharmacists. A recent article on Minnesota Public Radio tells the story of a 78 year old woman who's finding success using her laptop computer to converse with her pharmacist from the comfort of her own home. As the years go on, it becomes increasingly difficult – no matter how important it is – to get out and see the pharmacist in person. To ensure patients are taking their prescribed doses correctly, pharmacists are making themselves available for a quick consultation via their webcam.
Other Ways Seniors Can Use Technology
Here are some other ways seniors can use technology:
To keep in touch with out-of-state family and friends using cell phones, webcams, Facebook, emails and more
To stay fit using electronics such as Nintendo Wii
To watch videos and see photos of family through photo/video sharing sites such as YouTube
To maintain health records online
To order prescriptions and groceries online
To find medical specialists and other service providers in their area