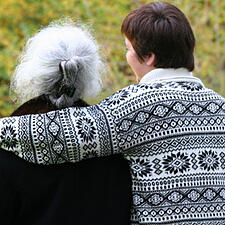 For too many seniors, what should be the golden years are a time of grappling with isolation and depression.
Helping seniors stay healthy and independent means more than ensuring they get good physical care. It's increasingly clear that it also means providing them with opportunities for social connection and personal fulfillment.
Depression in Seniors
A recent study in the Journal of Hospital Medicine links depression with a 47 percent increased risk of hospital readmission. An article in this week's Detroit Free Press highlighted research showing that feelings of loneliness and being undervalued increased a senior's risk of being scammed by 30 percent. These articles demonstrate a need to address depression in seniors.

Provide Companionship to Seniors
So, what can you do to help? Many organizations offer opportunities to volunteer as a companion to a senior. Such opportunities include
reading to those whose sight is failing
providing Meals on Wheels
helping to organize social activities at assisted living centers
Such opportunities, which can take just a couple of hours a week, can provide a senior with meaningful social interaction and a sense that someone cares about them.