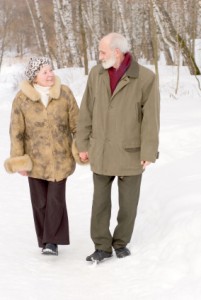 Slick roads, bone-chilling cold, ferocious winds – winter weather presents a host of unpleasant challenges.
Cold Can Be Dangerous for Seniors
For seniors, especially those that live alone, cold can be truly dangerous. This year the risks are affecting even more people as storms and freezing temperatures hit areas of the country typically immune to such weather.
Seniors unaccustomed to cold weather may not know how to adequately protect themselves, while those who grew up in chilly climates may not realize they now need to take extra precautions. As an AARP bulletin, "5 Hidden Health Dangers of Winter," notes, as people age, the reduction in fat and muscle affects the body's ability to generate heat. That means the elderly feel cold more severely.
Cold Weather Risks
The bulletin cites increased susceptibility to heart attack, high blood pressure, Vitamin D deficiency, seasonal affective disorder and lung problems as the top risks cold weather poses for seniors.
How can you help? Check in daily with seniors to make sure they're staying warm. Offer to run errands for them to reduce their risk of falling on ice or snow. Make sure they have adequate warm clothing for both indoors and out, and several blankets for indoor use. And remind them of the importance of adequate hydration.
If you need help ensuring a senior is staying warm and safe this winter, consider hiring a caregiver to check in on him or her. A daily check-in can provide peace of mind and help the senior in your life take the right steps to staying cozy and content this winter.