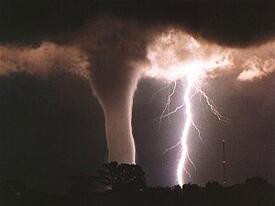 The earthquake and tsunami in Japan are reminders that we're all vulnerable to unexpected disasters. Depending on where you live, you might be susceptible to hurricanes, floods, wildfires, earthquakes, tornadoes, and more.
Seniors often need extra help in order to be prepared should a major event strike. The U.S. Federal Government created www.ready.gov to help the general public prepare for an emergency. It's a good idea to take it a few steps to ensure the seniors in your life are equipped to survive a natural disaster by including these guidelines below.
Tips to Plan for a Natural Disaster
1. Create a communication plan. Plan how you will contact your family members in case of an emergency. Think through different disaster scenarios and adapt your plan for each one.
Complete an emergency contact and health card for your senior family members with information about medications, adaptive equipment, blood type, allergies and special needs as well as your emergency contact information. The card should be kept in the senior's wallet or nightstand.
2. Plan escape routes. Identify two escape routes from every room in your senior's home, and make sure you have any equipment you might need – ladders, etc. – to make the escape. Practice your escape plan at least twice a year.
3. Make an emergency kit. Assemble a disaster recovery kit and make sure everyone in the home knows where it is. Ready.gov offers a list of items you'll need. You can also purchase an American Red Cross emergency preparedness kit through its online store.
4. Check fire extinguishers. Store fire extinguishers throughout the home and keep them charged. Make sure your senior family members know how to use them.
5. Plan for pets. Many seniors are very attached to their pets and unwilling to leave them behind in an emergency. Keep a pet carrier in the senior's house and a phone list of pet-friendly motels and animal shelters along your evacuation routes.