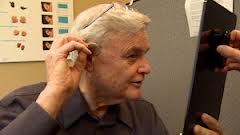 Have you noticed your elderly loved one struggling with their hearing lately? If you feel that it may be time to help them purchase a hearing aid, but you are uncertain as to which steps to take next, read on for helpful tips you can utilize as a caregiver.
Helping Your Loved One Choose a Hearing Aid
What a Hearing Aid May Cost
Digital hearing aids are not covered by traditional Medicare or the majority of private insurance companies. The typical cost of a hearing aid ranges from $1,000 to $3,500 per ear. This is one reason why it is imperative to follow the process of selecting a device carefully.
Be Picky about the Hearing Aid Provider
While seeing a general practice physician for hearing issues may seem acceptable, in reality it is far more appropriate and beneficial for your loved one to schedule an appointment with an otolaryngologist – an ear, nose and throat doctor. These physicians keep an audiologist on staff who fits and dispenses hearing aids to patients. In the event you are unable to find a local otolaryngologist, alternative options include an independent audiologist or hearing instrument specialist.
What to Expect at a Hearing Check
Prior to diagnosing your loved one's condition, the otolaryngologist will examine their ears carefully in order to rule out other medical conditions like an ear wax build-up, bacterial infection or tumor that can also cause hearing loss. If it is determined that your loved one's hearing is in fact solely affected by a hearing loss, the doctor will administer a hearing test to determine what type of hearing loss is to blame.
Choosing the Right Hearing Aid
Based on the results of the hearing test, the otolaryngologist will educate your loved one on the different hearing aid brands, features and styles available. It is important that you request a demonstration of any device under consideration to make sure it is the best choice for your loved one. Open communication about your loved one's lifestyle and hearing needs should also take place for this purpose.
Getting Fitted for a Hearing Aid
A real-ear test is one of the most crucial steps you should take in order to ensure your loved one's new hearing aid is suitable both physically and in terms of their needs. It is essential for the audiologist to perform this procedure prior to taking the device home. A real-ear test measures the response of the hearing aid against the level of hearing loss. Naturally, the device must also fit snugly in your loved one's ear without inflicting pain or further damaging their hearing.