While my grandma lived at her home, my mother and I would make it a point to stop by at least once a week to help with the light cleaning, such as dusting and vacuuming. The underlying clutter we mostly left untouched until after my grandmother died. What we found was amazing: a jar full of matches from various establishments, high-heeled shoes she never wore, 10-year-old soup and so on. I know, the situation could have been much worse – she could have been a hoarder.
Most people have experienced clutter in their lives or others.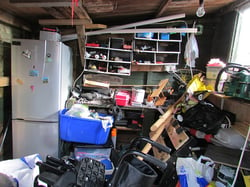 When clutter becomes out of control in the home, it can become dangerous. The difference between a hoarder and the average pack rat is that a hoarder's belongings interfere with daily life, according to AARP. For example, a hoarder may sleep on the floor when the bed is covered in clothing or other items.
Anyone can become a hoarder, but it is more common in older adults. Researchers at Johns Hopkins found 6.2 percent of people ages 55 to 94 years old were hoarders. This need to accumulate among some older adults may be due to the rations and deprivations they experienced during the Great Depression or WWII. However, experts are not entirely sure what causes hoarding. Studies point to genetics, brain chemistry and stressful life events as possible triggers.
Potential Dangers
In addition to the possibility of an insect or rodent infestation and fires, the Aging Life Care Association says hoarding may have the following negative effects:
Increased fall risk. Pathways filled with stacks of newspapers or boxes can cause you or your loved one to trip and fall. The piles of possessions may even topple or trap someone in the home.
Illness. Although your loved one may take their medicine as prescribed, the presence of clutter can inadvertently cause more symptoms. For instance, mold and dust may worsen pulmonary disorders. Clutter may make it difficult for caregivers to enter the home to administer care.
Smaller social circle. Your loved one may feel ashamed at the clutter and repel company. Decreased mobility and transportation issues coupled with hoarding may lead to isolation and depression.
Has your loved one's clutter caused distress in your life? Don't let an overabundance of possessions get in the way of maintaining a warm relationship with your loved one. Be aware of possible safety concerns and do your best to provide the extra support to maintain a clean and safe home.
If you need assistance helping your loved one get through daily activities despite the clutter, we can help. ComForCare/At Your Side Home Care offers trained caregivers who can provide light housekeeping and companionship without your loved one feeling embarrassed or ashamed.
Haley Kotwicki has many years of experience with family caregiving, especially with older adults. She has a background in journalism and is currently the copy editor at ComForCare. Haley blends the latest research, practical information and humor into inspirational posts.