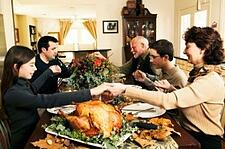 We have many things to be thankful for this Thanksgiving: our wonderful caregivers, our clients, and all of our friends and families.
We know the holidays can be a complicated and stressful time, especially if you have aging relatives. It can also be the time at which it becomes apparent that an aging relative needs more everyday assistance than they had before. If you notice changes in your loved ones over the holidays, it may be time to have a talk with them about long-term care. If you have started noticing changes and don't know how to start this conversation, we have some tips for you.
Caregiving during the holidays can feel overwhelming, but it doesn't have to be. Staying positive and not feeling guilty because you cannot handle every single thing on your own is very important. A professional in-home caregiver can be a huge help and relief during this time, providing not just necessary aid to your relatives but also companionship and another person to share the holiday spirit with.
As we look around the dinner tables today at our families, we give thanks for the bounty we have reaped this year. It is our pleasure, and our mission, to provide you with the highest quality in-home care and information about caring for aging relatives that we can. From our family to yours, have a Happy Thanksgiving!