Are you looking for just the right gift for someone special? While choosing presents can be complicated for people of every age, it can be even more challenging to pick out just the right gift for an elderly loved one. Older adults often have limited living space already filled with more than enough possessions.
A Gift that Lasts a Lifetime
While our consumer culture places much value on buying and receiving gifts, research finds that people actually enjoy more happiness with experiences, rather than things. It turns out spending money on an experience creates more happiness than an item does. An experience, such as a vacation or even a simple outing to a restaurant, involves anticipation, sensory stimulation, social interaction, emotions and memories.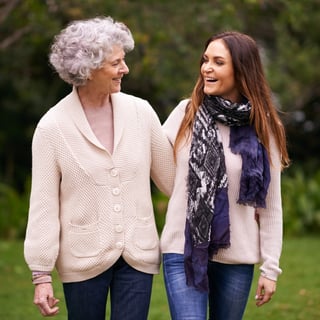 While positive experiences happen in the moment and possessions hang around the home, those experiences can be recalled later, stirring up the same happy feelings. Even if your loved one has Alzheimer's disease or another form of dementia, positive emotions from happy experiences linger for hours after the experience is forgotten.
Not every experience turns out as perfectly. Chances are some of those horrible experiences from long ago will bring on laughter now – that cold and rainy camping trip, the holiday gathering when everyone was sick, or the birthday cake that nearly set the house on fire.
Giving the Gift of Presence
Having enjoyable experiences with an older adult may not cost anything. Talking about your loved one's past events, sharing family stories or looking at old photos is a gift of presence. Time that family spends together is an experience all of you can treasure.
Once you have everyone reminiscing, you may want find a way to save the stories. Get out a notebook, a video camera or a smart phone to record the memories. There are phone apps available such as FamilySearchMemories that can help you preserve and share the memories with others later.
So rather than purchasing a new pair of slippers, a bottle of perfume or a potted plant as a gift, plan an experience together. Maybe it's a date night, a family trip to the movies or an exotic cruise. Or it could be as simple as drinking a cup of cocoa together in front of a warm fire.
Happy experiences make for a happy life. ComForCare/At Your Side is here to provide the help you need, so you can live your best life possible. Call today to learn more about the 50 ways we can help.