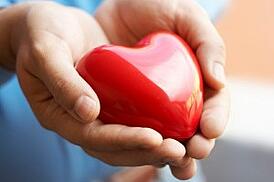 The American Heart Association named February as American Heart Month! While that's a start at bringing attention to this killer disease-- a serious issue in the United States--we need to focus on fighting it year-round.
Heart Disease is the #1 Killer of Women
Cardiovascular disease is the No. 1 killer of American women, taking the life of about 432,000 women annually. That's 10 times as many deaths from breast cancer and twice as many deaths from all cancers combined.
Unfortunately, too many women miss the signs of cardiac disease for mainly two reasons:
Studies still tend to focus on men – even though more women die of the disease
Women's symptoms are different
"

There is a widespread misconception that heart disease is a man's disease.

" - Beth Israel Deaconess Medical Center. Awareness of heart disease first began as promoting how the disease affects males. The general misconception is that women have the same symptoms as men. However, this is not the case. Women having a cardiac episode typically report indigestion, shortness of breath, nausea, and lightheadedness among other symptoms.

Learn Your Risk of Heart Disease
The American Heart Association has useful information, literature, and articles on how heart disease can be prevented in both men and women. So check it out and learn your numbers – for cholesterol, blood sugar and blood pressure. If you think you're experiencing cardiac trouble and your primary care physician dismisses your concerns, seek a second opinion – preferably a specialist's.
Let's keep our hearts beating!