Arachnophobia. Coulrophobia. Claustrophobia. The fear of spiders, clowns and small spaces are some of the more common and well-known phobias. However, for older adults, there's one fear many don't talk about – the fear of falling.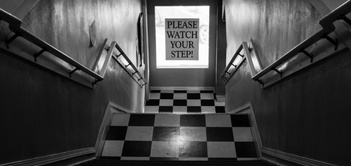 Officially called basophobiam, the fear of falling is different than acrophobia (the fear of heights). When someone has a fear of falling, they're anxious and worried about all the potential negative consequences of a fall: Will they get hurt or hospitalized? Will someone be around to help them get back up? Will they lose their independence and have to move out of their home? Plus, falls can be embarrassing for older adults.
Being afraid of falling can actually increase a person's risk of a fall. According to the World Health Organization (WHO), when someone has a fear of falling, they often cut back on activities needed to maintain strength, balance, self-esteem and confidence. They're also more likely to withdraw from the things they love to do, which can lead to loneliness, isolation and depression. In turn, isolation and depression can increase a person's fall risk. It's a vicious cycle.
What Can I Do?
Helping older adults understand their risks factors – and providing ways to reduce those risks – can help older adults overcome their fear of falling. According to WHO, here are some key risk factors to consider:
Behavioral – Many older adults believe it's too late to change their habits and adopt a healthy lifestyle. Remind an older adult that, even though it may take longer than when they were younger, they can still learn new things. Falls are not a normal part of aging – and there are things they can to improve balance and strength, which can help reduce falls.
Personal – Changes in vision and hearing, medications or even the type of shoes one wears can increase someone's fall risk. Encourage an older adult in your life to talk to their doctor about personal fall risk factors and what lifestyle changes would be appropriate. You can also download our infographic Protect Yourself Against Falls for important self-care tips.
Environmental – Most falls happen at home. Poor lighting, loose carpeting and cluttered rooms are some common fall risk factors. Work with an older adult to identify potential problems in their home and offer solutions. Sometimes, something as simple as adding a few nightlights or rearranging the furniture can make a big difference. For more trip hazards to watch out for, download our Reduce Fall Risks at Home
Social – Look for changes in an older adult's activities. Have they been skipping their weekly card game or religious service? Do they seem withdrawn or unusually irritable? These changes could stem from a fear of falling, depression or both – as the two are often related. Help the older adult in your life continue to do the things they love. Offer to give them a ride to their next gathering or organize a get-together at their home. Social engagement is vital to staying mentally and physically healthy, especially as we age.
Millennials are often said to be afflicted with FOMO (the fear of missing out). For seniors – the fear of falling (or FOF) could be causing them to miss out. No matter the reason – no one wants to live in fear.
If you're concerned that an older adult isn't living their best life possible – contact us. Our caregivers can assist with both personal care and companionship. In addition, many offices offer complimentary home safety checks and fall risk assessments. Call 800-886-4044 to find a location near you.