Brains and falls don't mix well. That's why kids riding bicycles, teens doing skateboard tricks, adults cruising on motorcycles and athletes playing football wear helmets. That protective gear helps shield brains from being jostled, jiggled or battered in the event of a crash or fall.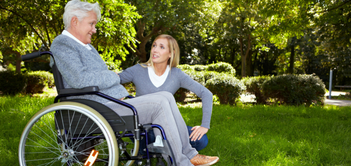 Traumatic brain injuries (TBIs) can occur anywhere and to anyone. Falls are the most common reason for brain injury in people of all ages and motor vehicle accidents rank at No. 2.
A report from the Centers for Disease Control and Prevention (CDC), shows a growing number of older adults experience concussions and other brain injuries due to falls. Those age 75 and older comprise the greatest number of hospitalizations (31.4 percent) and deaths (26.5 percent) due to TBIs.
According to the research, 1 in 45 older adults ages 75+ had brain injuries in 2013 that led to emergency department visits, hospitalizations or death. This was an increase of 76 percent from 2007! These alarming statistics about falls and TBIs highlight the need to raise public awareness about fall risks and prevention for older adults.
Risk Factors
Falls can be detrimental to older adults maintaining health and independence. Potential risk factors for falls include:
Decreased physical strength, especially lower body weakness, can cause falls or make it more difficult to stop a fall in progress
Anti-clotting medications can increase intracranial bleeding and make the situation worse
Walking and balance difficulties result in unsteadiness
Tranquilizers, sedatives or antidepressants may impair balance, alertness, reaction time and thinking skills
Vision problems can make it difficult to perceive depth or see obstacles
Home hazards such as throw rugs, household clutter and lack of grab bars in bathrooms can result in falls
Other identified predictors of falls in the elderly include a history of past falls, living alone, use of walking aids, depression, cognitive deficit and being on more than six medications.
That's not all. According to an Ohio State University study, more than one-third of older adults with minor head trauma caused by a fall will need to return to the emergency room within 90 days after discharge. "Older adults with falls are a higher risk population that could benefit from early interventions to reduce their need for recurrent emergency care," said Dr. Lauren Southerland, an emergency medicine physician at Ohio State Wexner Medical Center.
Be aware: If an older adult falls and hits their head, seek medical help. According to the CDC, "Falls can cause head injuries. These can be very serious, especially if the person is taking certain medicines (like blood thinners). An older person who falls and hits their head should see their doctor right away to make sure they don't have a brain injury."
What You Can Do
Seniors who experience a fall are at risk for functional decline. They even may keep their falls a secret from families and physicians in an attempt to preserve their independence.
While it might not make sense for older adults to don helmets during their waking hours, they may benefit from more help at home. Given the serious risks of head injury with older adults, take time to talk with elderly loved ones about fall risks before falls happen. Consider implementing fall prevention strategies. You may want to get in-home assistance from ComForCare/At Your Side Home Care for light housekeeping, personal care, errands or other activities that could lead to falls.
For more ideas on how to initiate the discussion, download Important Things to Discuss with Your Aging Loved One.