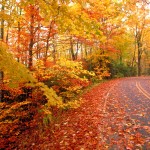 Today is officially the first day of autumn. The weather is cooling down in most parts of the country; leaves will soon begin to change a myriad of lovely colors, and we will begin preparing for the winter and holiday seasons. This is a great time to start initiating indoor and outdoor activities with your elderly friends and family members.
Ideas to Spend Fall Time With Your Elderly Relatives
Here are a few suggestions:
Take a walk. Most towns have a walking path or a park nearby where you can take a leisurely stroll and enjoy the changing season.
Go to a pumpkin patch. If your loved one can still get around quite easily, spend a day at a local pumpkin patch. Pick out the perfect pumpkin to bring home and carve or decorate with paints.
Get your home ready for the winter months. While the weather is still nice enough to be outside, this is a good time to hire a maintenance man or take it upon yourself to do some preparations around the home. Don't let your elderly loved one risk their health or well-being.
Change out the closets. Make sure your loved one has plenty of cold weather clothing stacked in their closet, including sweaters and pants.
Pick some apples. Enjoy a day at a nearby apple orchard. Then use your apples to make warm apple cider or dip them in caramel for a real treat!
Update the garden. Help your senior family member replace summer foliage and with mums.
Take in a game. Along with fall comes football games and screaming fans. Have the family over to watch the big game and help your senior make appetizers and homemade chili for your guests.
Spending time with your loved one and engaging in seasonal fall activities will remind them of the love and support they have around them. It will also help to spark happy memories from their pastime.
What are some other fall activities you plan to do with your loved ones in the coming months?