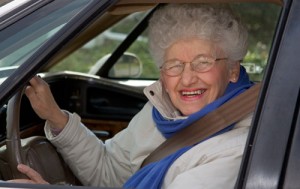 As we get older, many things become a little more challenging and driving is one of them. Our eyes aren't as strong as they once were, our stature is a little smaller and reactions sometimes aren't as quick. Slowing down our movements and life becomes a natural progression and a welcomed one for those who lived fast-paced, hectic lives. But when it comes to getting behind the wheel, we want to be sure we're taking all the necessary precautions to stay safe and keep others from harm.
Safe Driving for Seniors
Here are a few great tips for seniors and driving from HealthDay:
Keep your glasses prescription current and always wear them when driving. Don't wear glasses with an old prescription, and make sure glasses don't have wide side pieces that may interfere with your vision.
Don't wear tinted lenses or sunglasses at night, and don't tint your car windows. If you have trouble seeing in dim light, don't drive at dawn, dusk or during darkness.
Make sure car windows, mirrors and headlights are clean, that your car's headlights aim properly, and that your instrument panel is bright and easy to read.
Make sure you sit up high in your seat (use a cushion if necessary) and that you can see the road well in front of your car.
Get an annual eye exam.
Do you have any other helpful driving tips for seniors? Share them with us on our Facebook page.