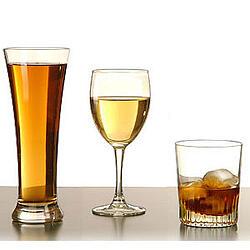 We often hear that as we age we should consume less alcohol and watch what we drink. Our tolerance and body is not what it once was. But what's the real reason?
Why Seniors Should Cut Back on Alcohol
Here are a few reminders about why we need to start cutting back as we enter into older age:
You Can't Handle It. The truth is that older people metabolize alcohol more slowly and have less water in their bodies, which means they will start feeling drunk more quickly.
You'll Worsen Health Problems.Alcohol can also make age-related health problems worse, like high blood pressure, diabetes and memory problems.
You Could Overdose. Not on alcohol, necessarily, but think about all the medications you're taking now compared to when you were younger. As you age, you are increased risk of an alcohol-drug interaction, which can cause several problems.
You Could Physically Hurt Yourself. Alcohol can cause older adults to be off-balanced, causing falls. We all know falling in our elder years can cause broken bones and other bumps and bruises that don't heal as quickly as they once did.
Just because there are risks, doesn't mean you have to stop drinking altogether. But it does mean that you need to start being more aware of what you consume and how it can affect the rest of your life. For more information about alcohol use and older adults, check out the full report on the National Institutes of Health's Senior Health website.