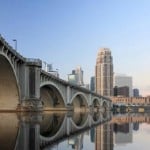 While warm locales in the West and South often top retirement destination lists, a new survey of the best places for seniors found that many colder-weather areas actually offer the highest quality of life for the elderly. The survey was sponsored by Bankers Life and Casualty Company's Center for a Secure Retirement, and conducted by researchers at Sperling's Best Places.
Best Places for Seniors to Retire
The top-ranked cities chosen aren't what come to mind when you think about where to spend your golden years, but they scored high in the criteria most important to the 65-and-up bracket. Using health, economic, and other quality-of-life measures, the survey named the following 10 metro areas:
1. Minneapolis, MN
2. Boston, MA
3. Pittsburgh, PA
4. Cleveland, OH
5. Denver, CO
6. Milwaukee, WI
7. San Francisco, CA
8. Portland, OR
9. Kansas City, MO
10. Newark, NJ
The Bankers Life and Casualty Company Center for a Secure Retirement Best Cities for Seniors 2011 survey was conducted in May of 2011. The complete report may be viewed at www.CenterForASecureRetirement.com.
Visit our Facebook page and let us know what your top location is! http://goo.gl/JoCBG