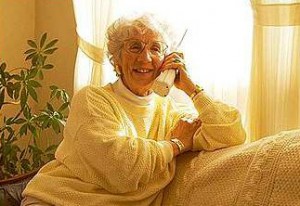 As life spans lengthen, millions of men and women across the country are providing care for their aging parents. While it can be challenging to pay frequent visits, stay on top of medications and doctors appointments, ensure your loved one's safety and juggle your own commitments and responsibilities, it is twice as hard when you're doing it from afar. But that's exactly what about 7 million Americans do as long-distance caregivers.
Tips to Care For Your Elderly Loved One From Afar
How, you ask, can they do it? See below for some helpful tips from our own experts:
Take advantage of technology. There are so many options when it comes to keeping in touch with friends and loved ones these days. Gone are the times when we had to rely on letter writing and phone calls. Get your loved one set up with a computer and webcam and teach them how to video conference with you. This will not only give you a chance to hear their voice, but see their appearance.
Build relationships with friends, neighbors and doctors. When you're hundreds of miles away, sometimes you need to rely on the help of a neighbor or friend of your loved one. Perhaps they could stop by regularly to check in or at the very least stop by once in a while to ensure your family member is okay.
Don't do it alone. If you have siblings, children, or other family members be sure to keep them all involved and up to date. Divide up the duties and make sure everyone is included in the decision making process.
Stay organized. When it comes to your loved one's medical, financial, or legal documents, be sure to keep copies of everything and store them in an easy to access file drawer or folder. Keep track of account numbers, passwords, insurance information and important names and phone numbers.
Consider home care help. A home care services caregiver can drop in on your loved one, and provide certain in-person assistance that you might not be able to provide from afar.
Are you a long-distance caregiver? How do you do it? Share with us on our Facebook page!