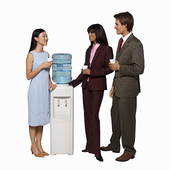 A recent article published on Caring.com discusses whether or not it's a good idea to talk about one's caregiving responsibilities at work. Some people feel like they can juggle it all and don't need or want the sympathy from co-workers. Others are fearful of bringing attention to the issue and potentially losing their jobs, or it doesn't occur to them to bring it up.
Reasons to Share Your Caregiver Status at the Job
However, though these concerns are real and every situation is different, there are some good reasons to share your story and hectic life.
You have a legit reason. Caring for an aging loved one is very common these days, and you'd be surprised to find that most people at the office will understand and empathize with your situation. Also, at least people know why you're leaving early some days or super stressed out. Without a good explanation, colleagues may feel like your slacking on the job and that your hearts really not in it.
There may be resources available. Some workplaces offer special working hours, assistance programs, educational programs and even mandated family leave opportunities. The bottom line is it can't hurt to ask what's available to you.
You may gain a whole new support network. According to a 2004 survey conducted by AARP and the National Alliance for Caregiving, an estimated 44.4 million caregivers age 18 and older in the U.S. provide unpaid care to an adult family member or friend. Many of these caregivers are also juggling family responsibilities and work, with 59% of caregivers working either full- or part-time. A recent study from AARP estimates that, in 2006 alone, the value of unpaid care provided by friends and family was $350 billion. You never know how many of your colleagues are in your situation and can offer invaluable advice and tips to help you. They may even be able to refer you to excellent treatments or doctors that are helping their individual loved ones.
The more support you have, the less stress you'll have. Your colleagues who have been there before or are just in the beginning stages can all offer an excellent sounding board. It's important to talk about the situation, and ease some of the stress and pain associated with this difficult job.
Keep the conversation going. In 1993, the Family and Medical Leave Act (FMLA), which entitles mothers or fathers up to 12 weeks of job-protected medical leave for birth or adoption, was passed. Though FMLA doesn't cover all employees, the important point is that working women kept the conversation going and shared their challenges so that one day they were able to hold on to their much-needed jobs while they took some paid time-off to have their children. With this next hurdle, who knows what benefits will be available to American workers if we keep talking about the stresses associated with caring for an aging loved one – especially since at some point, nearly everyone will be affected.
So don't be afraid to share your story – you're not alone!