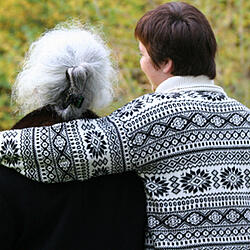 Alzheimer's disease has a serious impact on a patient's personality, physical health and ability to function independently. But it also affects the family members caring for the Alzheimer's patient, who typically requires around-the-clock care and who may have developed aggressive or demeaning behaviors completely disconnected with his or her personality before the disease.
At ComForcare we provide respite care for family members overwhelmed by caring for loved ones. But we also understand that, even with help, most families will still shoulder the primary weight of caring for a parent or relative. Caregivers commonly grapple with stress, depression, grief and other major challenges.
Stress Check for Alzheimer's Caregivers
The Alzheimer's Association offers a Caregiver Stress Check. It's designed to help caregivers make sure they're not compromising their own health.
Sometimes, the best support comes from those who have been there. So we'd like to get your input. What are the resources that have helped make a difference for you? Or what caregiver coping strategies have been the most effective for you or those you know?