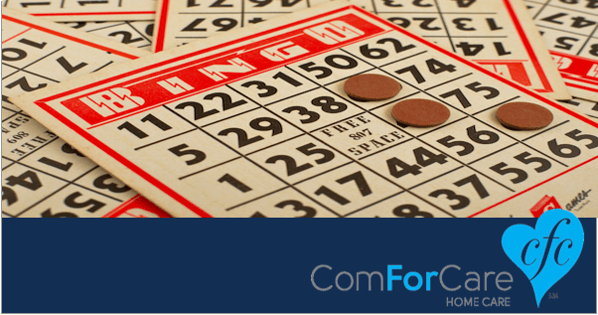 People with dementia need mental stimulation to stay alert and engaged. But finding games that keep people with cognitive decline absorbed and entertained can be challenging.

Complex games like Monopoly, which require players to mentally track multiple pieces of information and make quick decisions, can be frustrating.

What Games are Appropriate for People with Dementia?
The key to finding games to play with people with dementia is to choose simple, task-oriented formats that utilize multiple levels of cognition, like color and shape matching or the physical manipulation of game pieces.

So what games should you have on hand to play with your loved one or to share with your companion caregiver?

Bingo!
It's no surprise that Bingo! is a regular favorite in retirement communities across the country. But you might be surprised to learn that the senior-center staple has real cognitive benefits! Playing Bingo has actually been shown to enhance cognitive performance, even hours after playing, according to a study published in the American Journal of Alzheimer's Disease & Other Dementias.

Want to play at home? You don't have to stick to the traditional letter/number format. You can play Bingo! with any sets of corresponding symbols; from body parts to favorite foods.

Matching Games
Matching games like Dominoes or Qwirkie are great games to play with people with dementia because the "rules" are generally simple to remember and because gameplay can be modified based on individual cognition levels.

Some dementia patients may find Qwirkie particularly enjoyable because, with its brightly colored shapes and smooth black tiles, it's not only mentally stimulating but visually stimulating as well. Later stage patients may find the process of creating patterns with colors and shapes more enjoyable and less stressful than "playing to win."

Jigzaw Puzzles
Puzzles with large pieces are a great option for people with dementia because they require hand-eye coordination and the physical manipulation of the puzzle pieces.

Puzzles are a low-pressure activity that you and your loved one can work on for days or even weeks at a time. Choose neutral imagery like landscapes or animals, rather than anything child-focused.

Memory Games
There are two types of memory games: games that test your recall of specific objects (like the memory card games you played as a child) and games that jog memories from a person's life. The first type of memory game may have benefits for very early stage dementia patients, but could become challenging and ultimately frustrating.

You and your loved one might find the second type of memory game more enjoyable: the kind that tasks patients to converse and recall memories. Some games, like "Thumball Memory Activity Game" and "Shake Loose a Memory" are designed specifically for patients with dementia.

With prompts like "foods I can cook" and "people I admire," Thumball both jogs memories and facilitates conversation. A toss-and-catch format gives his game the added benefit of enhancing hand-eye coordination.

Shake Loose A Memory works similarly, asking players to collect cards as they recall pleasant memories (like practicing the piano or celebrating weddings).

Word Games
Simple word games like crosswords or word searches can be fun for early stage dementia patients who may still enjoy reading and even writing. Look for large-print crossword collections made especially for seniors.

Find-the-Object/I Spy Games
While the cognitive benefits of social interaction can't be overstated, sometimes dementia patients want to play games or do activities alone. Find-the-object style games work well for this, and can have a calming and focusing effect on players.

The premise is a finding several hidden objects within a clear box or tube obscured with filler material like rice, beads, or sand. You can find these games pre-made, or you can DIY your own.

Who Said You Have to Play by the Rules?
Patients in the early stages of dementia or cognitive decline might be able to play some games "by the rules." This can be fun, and can promote a sense of independence, but it's important to remember that these activities are more about the process than the outcome.

For patients in later stages of cognitive decline or dementia, reframing what it means to "win" frees up game-time to be enjoyable and stimulating without the pressure to accomplish something. The goal of these activities is to help your spouse or loved one feel useful and engaged. So feel free to make your own rules!