Following a diagnosis of early stage dementia, or even before diagnosis when the first symptoms being to appear, many things will change. From the impact it has on your daily routine to the changes you fear it will cause in your relationships, there's a lot on your mind right now.
But while many things will change, and many of those changes will be difficult, isolation will only make it that much harder. Building a plan to help manage your life, involving those you love in the process, and bringing together people you can lean on as you make adjustments will make the entire process that much easier to manage.
Coping with Dementia Symptoms and the Diagnosis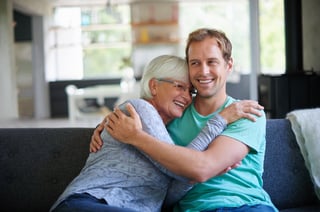 There are many factors in the development of dementia and not all symptoms will have as strong an impact on your life right away. But from the very beginning, maintaining old routines and developing new ones that take into account your symptoms is very important.
Having a loved one or an organization like ComForCare involved can make a big difference as well. Home care services in general are designed to assist those with symptoms of dementia, whatever phase they might be in.
In New York City, ComForCare's staff is unique in their education level, social adaptability and positive attitude, which helps to create a more powerful bond with each individual we work with. For those with early state dementia or Mild Cognitive Impairment, this is particularly important. Our goal is not just to monitor, but to enable you to be as independent as possible and to feel a sense of power and control in your life.
Be Realistic: Identify Each Challenge and Set Goals
Challenges may not be evident at first, so it's recommended you start creating a list of those things you know you will need help with. From every day tasks to personal goals you want to achieve, write them down and communicate with your family or home care services provider how you want to approach symptoms.
You can take this a step further by setting specific goals for yourself. Set goals for the year, month, week, and day. Every morning, make it a priority to set at least one goal for yourself. Having these goals in place gives you something to work toward on a daily basis, and an achievement you can celebrate when they are completed.
A caregiver can be a partner in tracking this goals and monitoring your progress on a regular basis. By knowing what challenges you face, setting goals for how to overcome them, and enlisting help to accomplish your goals, you can remain realistic in your expectations and enjoy your life as you long have.
Moving Forward After Diagnosis
Coping with the development of Alzheimer's disease or dementia is essential to leading a happy, normal life. ComForCare home care services works with both those recently diagnosed and their families to maintain routines such as paying bills, staying socially and physically active, organizing around the house, and taking medication. Our caregivers also serve as companions, promoting social and cognitive health through daily conversations and activities such as walks and games.
If you're interested in learning more about how home care services can help you address the early symptoms or recent diagnosis of dementia, contact ComForCare New York City today.