In your 50s and looking for work? This AARP article provides 8 common mistakes boomers make when applying for jobs worth watching out for and some tips to see that you don't perpetuate them.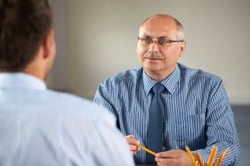 Taking a break. The solution: Keep active! While those over 50 might rightly feel that they have a right to relax a bit, those interested looking for work shouldn't let age slow them down.
Using an outdated email account. The solution: Eschew using email addresses associated with older Internet companies like AOL or Yahoo!. While still fine companies in their own right, using an account with an "@aol.com" or equivalent ending definitely dates you. Instead, using a similar free email address like that provided by Google shows that you're up-to-date on newer trends and technologies, keeping you competitive.
Lacking a digital presence. The solution: Ensuring that you maintain a visible Internet presence is as important for boomers as it is for younger job seekers. As AARP points out, 94% of the 1,855 recruiters and HR professionals surveyed in a study pointed to online job site LinkedIn as being their essential source for recruiting.
Being inflexible on your salary. The solution: Understandably, many older workers take umbrage at salary offers that are less than they believe their years of experience have earned them. But now more than ever it's important to be able to compromise with employers when it comes to salary. In lieu of higher pay, consider asking for vacation time, flex time or other benefits that can compensate.
Not networking. The solution: It's unquestionably important to network when it comes to your career. Don't be shy; talk to anyone and everyone you know—or that people you know know—and share what you can offer an employer. You never know; a simple casual conversation could lead to your dream job.
Overdoing your résumé. The solution: As Shakespeare said, brevity is the soul of wit. That much is just as true when it comes to your résumé as it is for literature. While job seekers with decades of experience have a lot to brag about, it's important to consider how hiring managers—people who often have to pore over many résumés for any given position—will take your tome of a résumé. To spare their time, keep your résumé to the most recent and important positions you held and tasks accomplished.
Rejecting jobs too quickly. The solution: It's important to realize the job descriptions represent a company's ideal candidate and to differentiate between the ideal and the realistic. As long as you have the experience and a temperament to match, it's definitely worth applying to a position.
Waiting for the dream job. The solution: Just as employers often look for a dream employee but are more than prepared to accept someone who lacks a few of their idealized traits, job seekers are often just as inclined to hold out for a job that checks every single box in terms of requirements. Instead of holding out for such jobs, it's important to be realistic and learn which requirements you have that are worth dropping.