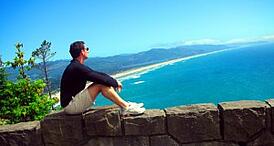 This week, we shared with you quotes, photos, and songs that inspire us and keep us moving forward during tough times. Caring for an aging or sick relative can be time consuming and stressful, but staying positive and counting your many blessings will help you along the way.
Staying Positive as a Family Caregiver
Here are a few tips to keep the faith as a caregiver:
Get Educated.

Often times we worry about every little change in our loved one's health or appearance. While it's always good to get these things checked out, educating yourself so you know what to expect as a caregiver will help manage the stress.

Put Yourself First. At the end of the day, if you're unhealthy it will not do anyone any good. It's so important for you to take some time out of each and every day to refresh. Step away, even if it's for a few minutes, to do something just for you.
Schedule Fun. Schedule entertaining activities a couple times a week for you and your loved one. If your relative is mobile, go to a park or shopping or to the movies. If you're older parent or loved one likes to stay home, rent old movies, play board games or try a new recipe together.
Get Help. Don't feel like you're all alone. Millions of Americans are in your exact same shoes, and even if you don't have family or friends who can help out with your caregiving duties, there are plenty of support groups and resources available to you. Consider hiring a professional caregiver a few times a week to give yourself a break.
Breathe and Reflect. When the stress or emotional turmoil gets to be too much, take a breather. Listen to your favorite song, read a book, take a yoga class or merely zone out and meditate wherever you can find some alone time. Remember all of the good times you had with your loved one and how lucky you are to still have them in your life. Take advantage of these precious last moments.
What keeps you going? Share with us on our Facebook page!