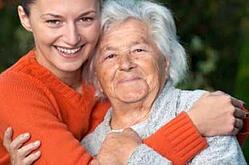 It is easy to get caught up in the romance of Valentine's Day with the explosion of red and pink, flowers and chocolates. The day evokes the warm and wonderful feelings of the first flush of love. In that rush of feeling it can be easy to forget your aging loved ones, but Valentine's Day can leave them feeling loss more acutely than ever.
Show Your Senior Some Love
The unavoidable fact is that as we grow older, our loves grow older as well and we do eventually lose them. If your aging loved ones have lost their husbands, wives or partners, it's important to be there to support them and give them a little extra attention and love today.
Here are some ways to add a little extra love to a seniors Valentine's Day:
Bring them flowers or have flowers delivered
Share a meal or even just a snack with them. Instead of simply sending chocolates, bring them chocolates and stay for a visit.
Make sure the grandkids are involved! A handmade Valentine from a grandchild is wonderful and even better if it's delivered personally.
Help continue a tradition shared with their late spouse, be it a kind of present or an activity.
Share memories of a lost loved one; read old love letters or look through photo albums, or listen to stories of their courtship.
While you will never be able to fill the void left behind after a spouse or partner passes, you can still remind your aging loved ones that they are still deeply loved and cared for. Happy Valentine's Day, from all of us at ComForcare Senior Services!