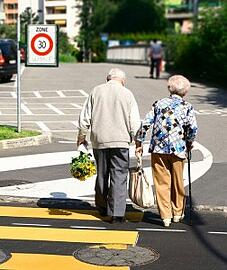 It's a stressful and disheartening time for seniors who, according to U.S. News & World Report, "will be facing recessionary conditions and erosion of financial gains they've achieved during the past 40 years," for at least the next 10 years.
The affects on senior safety net programs such as Medicaid, Medicare, and Social Security are surely worrisome, especially as more Baby Boomers enter the 65 and older segment. While many changes are sure to ensure, the most important thing you can now do as a senior is pay attention.
Financial Tips for Seniors
Here are five tips to get by:
Get educated. Someone once said, "If you think education is expensive, try ignorance." That saying couldn't be more true now. It's important to understand Social Security, including when to claim benefits and which benefits to claim, so that you're getting the most out of this government program. There is a handy retirement risk index available and tons of information on the Social Security website – start studying!
Shop around. Do your research and always shop for better rates and coverage terms on your Medicare policies. Don't just stick with the same plan each year!
Take advantage of what's available. There are nearly 3 million Americans who turn 65 each year; however, only 66,000 of them this year took advantage of the free and reduced-price menu items offered by The Affordable Care Act. Check out the list of preventive services available on Medicare's website.
Spend smart and save. The government has been pretty clear: Expect less support and rely more on yourself. Most Americans have already made cuts in every area of their budget, but be sure you're setting aside money for future needs as conditions will continue to worsen.
Max out your 401(k) and IRA. Be sure you're taking full advantage of employer matches in 401(k)s and all available tax breaks for IRA contributions. Do your research, talk to experts, and be sure you're doing everything you can for your savings and getting the most out of your dollar.
Another option is a reverse mortgage. To find out if that's the right solution for you, check out this reverse mortgage index from Lending Tree.
For further information and additional tips, check out this article from U.S. News & World Report.