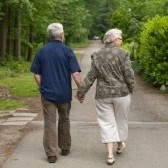 As summer winds down and we start preparing for cooler weather, take advantage of this time to enjoy some sun and outdoor activities with a senior in your life.
Five Ideas to Spend Summer Time With Your Aging Relative
Here are five ideas:
1. Tend to the garden. This is a good time to pull weeds, rake, plant fall flowers and prepare the garden for cold weather.
2. Take a walk. It's so important to keep your elderly loved one moving and active. Find a nice area to enjoy a stroll together.
3. Take me out to the ballgame. There's nothing that says summer quite like a baseball game. Get a couple seats in a shaded area, sit back and take pleasure in one of America's favorite pastimes.
4. Family barbeque. Come up with a classic BBQ menu, invite some friends or family over and take advantage of a warm evening outdoors. If it's too hot, bring the picnic inside!
5. Watch a movie in the park. Many community centers and city organizations feature movies – both the classics and newer ones – in a nearby park. Bring a blanket or some lawn chairs and packs some snacks and refreshments for one of your loved one's favorite movies.
For more ideas, visit this webpage.