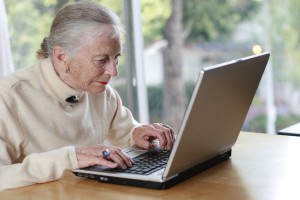 Older Americans are increasingly using the Internet, which makes them even more susceptible to fraud. According to the Pew Charitable Trusts, 56 percent of Americans aged 65 and older are online.
Since being online is new for some older Americans, it's entirely possible they won't spot a fraudulent ad, link, or application. This makes people in this demographic prime target for Internet scam artists and identity thieves. Seniors have also become attractive targets for fraud because most have accumulated nest eggs for retirement, or have substantial equity built up in their homes. Living alone with direct access to your checkbook can make you a profile these criminals look for. Vulnerability when it comes to trusting strangers also makes you a target.
Here are four tips to prevent your loved ones from becoming a victim of online fraud:
Avoid opening up emails or attachments from unknown senders
Never access a website from a link in an e-mail especially an email that asks for personal information
Never include your personal information in an email.
Avoid clicking on "pop up" alerts, which may carry malicious software.
Other Online Safety Consideration
Choosing a safe password is also vital. Passwords should be at least eight characters long and contain upper and lowercase letters as well as numbers and symbols. If you think you may forget your password, write and down and keep it in a safe place. Monitoring your financial account activity regularly is also important. You should be checking closely for any unusual activity and report it right away if you do find anything you don't recognize.
If you think you've been a victim to a scam, you can complain to the consumer bureau of your state attorney general's office or with the Consumer Financial Protection Bureau.
Next Steps