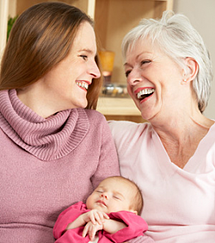 While the holidays are full of love, festivity and cheer, they are still a hectic and difficult time of year for everyone. With all the traveling, time and effort put into spending these days with your family, stress can dim the joy we feel over the holiday season. While you may want to cling to your family traditions, it may be time to make some adjustments, especially for your aging relatives. As we grow older our bodies and abilities become more limited, but that's no reason for anyone to feel left out! By utilizing these four simple suggestions, a happier and healthier holiday can be had by everyone.
4 Tips For a Happy Holidays With Aging Loved Ones
Work as a Team
As you age you lose stamina, which can make the daunting task of preparing for the holidays more difficult than ever. If the family matriarch or patriarch is hosting, make sure you get the whole family together to help them prepare the house, the meal, and the activities. If you live nearby, spend time now, in the couple of weeks before Christmas, helping to clean, decorate and shop. Family who are only in town for a day or two can help with yard work, food preparation, and clean up.
Simplify
As we age we are more prone to difficulties with balance, motor skills and strength, so it may be time to simplify your holiday festivities. Really, what makes the holidays so special is the time we get to spend with our loved ones, not how many strings of lights we can put up! Consider only displaying the most precious of your decorations, the ones most imbued with meaning and family history, instead of emptying all those boxes of ornaments. And if you live near your aging loved ones, helping them take down and store decorations is just as important as helping them set up!
Do the Work in the Morning
One thing senior citizens and small children have in common is that they have more energy and focus earlier in the day. To capitalize on that, plan your family activities in the morning or early afternoon to maximize the quality of your family time. Many seniors experience "sundowning" and the additional stress, activity and stimulation during holiday visits and activities can lead to higher levels of fatigue and confusion. It may mean adjusting the timing of your family traditions, but it will be worth it.
Share Stories and Memories
All of us can be prone to feeling left out during the holidays when there is so much going on to distract us, so focusing on family stories and memories can help your aging loved ones feel as if they're getting some of the spotlight. You can ask them their favorite holiday songs so you can play them during family gatherings, and then find out how they came to be their favorite holiday songs in the first place. It's easy to forget that our parents and grandparents know more about us than we do about them – they've known us all our lives, of course, but they had many years before we came along! Ask them about those years – not only will you have a better understanding of your own family history, you may learn some fascinating and surprising facts at the same time!
Next Steps