At times, we all need a little extra help. This is especially true for those who are full-time family caregivers. Perhaps you're considering hiring an in-home care professional but are not sure what steps to take. You may feel hesitant about setting up in-home care because your loved one is reluctant to receive help from anyone besides yourself.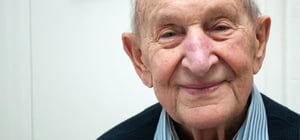 As you consider this option, you will want to involve your loved one in the discussion. Making this decision together will help ensure a successful transition to home care services. Once you enlist in-home support, you and your loved one will likely find it's enjoyable and refreshing to have a little time away from each other. Having a professional caregiver who is carefully screened and trained in best care practices can help both of you have better days.

Here are some tips on how to discuss this change together:
Talk hypothetically. Instead of telling older adults they need home care, talk about what they might do if they (or a friend) were to need a caregiver in the future. It may not seem like much of a difference but including them in the discussion will help them feel valued. Knowing their needs and preferences is beneficial in setting up optimal care.
Enlist the doctor's support. Sometimes it's easier for older adults to get advice about home care from someone outside their family, such as a primary care physician. Let your loved one's doctor know about the need for extra assistance at home and ask the doctor to suggest in-home assistance as an option during the next appointment. That recommendation may carry more weight than your opinion!
Steer other conversations to the topic. Find gentle ways to include in-home care in the conversation rather than bringing it up abruptly. Ask open-ended questions such as, "How would you feel about having a professional caregiver in the home?" or "Would you mind having some extra help at home?" Make sure you understand the pros and cons of in-home care services so you're prepared to have a meaningful discussion on the topic.
ComForCare/At Your Side Home Care can help you and your loved one live your best life possible by offering quality service. We provide clients the care they need, while respecting the independence they value.
To learn more about ComForCare/At Your Side Home Care, download our e-book: The Ultimate Home Care Planning Guide.
You can also call us anytime at 800-886-4044.

Editor's note: This article was originally published Oct. 1, 2015. It has been revamped and updated for accuracy and comprehensiveness.