Originally posted on ComForCareFranchise.com
It can sometimes be difficult for adult children to recognize signs that aging parents are beginning to need assistance. When children visit with parents regularly, it is easy to discount warning signs as normal behaviors. When children do not visit aging parents regularly, dangerous situations may not be seen and parents may be embarrassed and fail to describe events. The following signs may all indicate a need for senior home care assistance.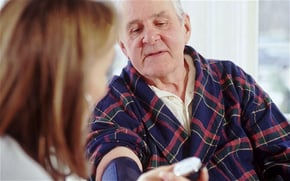 1: Excessive Clutter
One of the most common indications that parents are beginning to have difficulty with daily tasks is an abundance of unsorted mail and other clutter. Deteriorating cognitive functions may make sorting through mail and other items seem overwhelming. Behavioral changes may also decrease the motivation to go through items and reduce clutter.
2: Changes in Pantry
When it becomes difficult to prepare meals, loved ones may notice changes in the pantries of elderly parents. Seniors may begin to purchase more convenience foods and easy to prepare food items. Fresh produce and other perishables may spoil. An abundance of spoiled food can be a huge red flag.
3: Dramatic Weight Loss or Gain
As a result of pantry changes and difficulties preparing fresh, nutritional meals, seniors may begin to rapidly lose or gain weight. Nutritional deficiencies may also to manifest as skin problems and other health complications. These changes should be addressed quickly.
4: Personality and Behavioral Changes
Personality and behavioral changes may be an indication of cognitive decline or cognitive disorders. This may be very noticeable when seniors have mood swings, or may be less noticeable when changes are slower. Seniors may gradually begin to withdraw from friends and family, or may gradually become more aggressive. Adult children may benefit from speaking with other family members about observed changes in behavior.
5: Poor Hygiene
Seniors may begin to have trouble getting into or out of the bathtub or taking care of other hygiene needs due to chronic conditions or health complications. Loved ones may notice that their elderly parent has unkempt hair, teeth, or nails or is wearing the same clothing several days in a row. Body odor may also become noticeable.
6: Cuts and Bruises
Cuts and bruises may show an inability to move around the house comfortably. This may also reveal deteriorating vision or other conditions. If parents cannot answer questions about how cuts and bruises were obtained, it may be a sign of cognitive decline.
7: Medication Issues
If parents have been hospitalized for medication errors, it may indicate a need for assistance. Medication issues may also cause behavioral changes and declining health. It may be possible to identify medication errors when parents fail to refill medications on time or have an abundance of expired medications.
8: Neglected Housework
Seniors that are overwhelmed or unable to keep up with daily tasks may begin to neglect housework. Stained rugs, full sinks, and unkempt yards may be signs of health problems and other issues. Poorly washed dishes may also show a need for help and may pose a danger to health.
9: Failure to Pay Bills
Having utilities shut off may show an inability to understand or keep up with bills and other financial obligations. Failure to schedule needed services may also reveal problems with comprehension. These are often signs of cognitive decline.
10: Dangerous Driving Behaviors
Seniors are often unwilling to give up licenses. Dangerous driving citations may indicate decreased vision and other problems that make driving dangerous. Family members may suggest a retest and recommend that a parents license be turned in. while this may be difficult, it can help prevent dangerous situations.
Click here to go to ComForcareFranchise.com